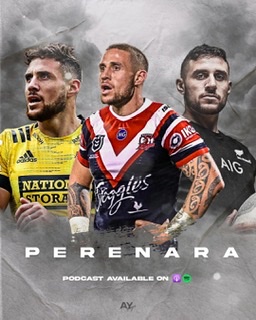 This is it, the moment you have all been waiting for (until it got leaked haha) but that's all good because in this episode we have one of the best lads in the game on the podcast, talking in depth about a huge decision in his career.
TJ Perenara is without a doubt one of the most influential players in rugby, you only have to look at the impact he has had with the Red Hurricanes in the Top League to see that. It's no wonder that there were plenty of teams wanting him on their books and plenty of fans wanting him to be apart of their team.
I guess it was the interest from the Sydney Roosters in the NRL, that made the whole decision even more interesting. The idea of TJ playing in the NRL got everyone talking and giving their opinion as to how he would go. In this episode he talks about just how close he did get to making the switch and he shares his own thoughts as to how he would have gone.
At the end of the day TJ has made the decision on what best suited him and his family and it was really cool to hear the whole background to his final decision.
As you'll hear, TJ is an absolute lad and he has come on the podcast before, so if you haven't heard that one, make sure you scroll back through the archives and listen to his full journey as well.